Happy Weekend Everybody!!
This week I have been in a project/house beautification mode, but one room that always has been neglected for far too long is my laundry room =/. Maybe because it has always been  a disazz or perhaps cause it's my favorite place to hide all of my junk that doesn't fit in a drawer,  but either way it has issues…
So, I have been pinvestigating and found 10 awesome ideas/tricks to jazz up the Laundry Room… The only problem is I'm just no exactly sure which direction to go….any thoughts?!? What's going on in your laundry room?!?
1) Stencil A Pattern by View Along The Way
Now I do have some experience with stenciling ( like my damask master bathroom wall which I am in love with), but maybe I should try something new?!?i
or throw up some wallpaper! I have no experience with wallpaper but I might have to take a whack at it!!
2) D.I.Y Space Saver by Good Housekeeping
— I am always into crafts/beautification with a purpose !! This nifty idea would definitely be more useful and cuter than that awkward space/nitch everybody has in their laundry room that hides the old mop bucket..or maybe that just me?!?
3) Paint  a Trendy Pattern… like Herrinbone  by Remodelaholic
— I just love whats going on here.. a great  use of space (or lack there of kind like my issues) + awesome organization. I definite contender here =) Some other fun patter options include: chevron, houndstooth, honeycomb, quatrefoil & fish scale
or ombre anyone?
–if you haven't already taken my "
House Tour
" you will see I have quite the love for shabby chic that shows up in my bedroom and especially master bath.. (ps. dont ya love the quatrefoil stenciled wall here too =)
I'm totally diggin this look but my laundry room is just too small =(
Decals are always an easy, quick, mess free option to beautify a room.. I love how they turned out in my
guest bathroom
, but should I go for something else?!?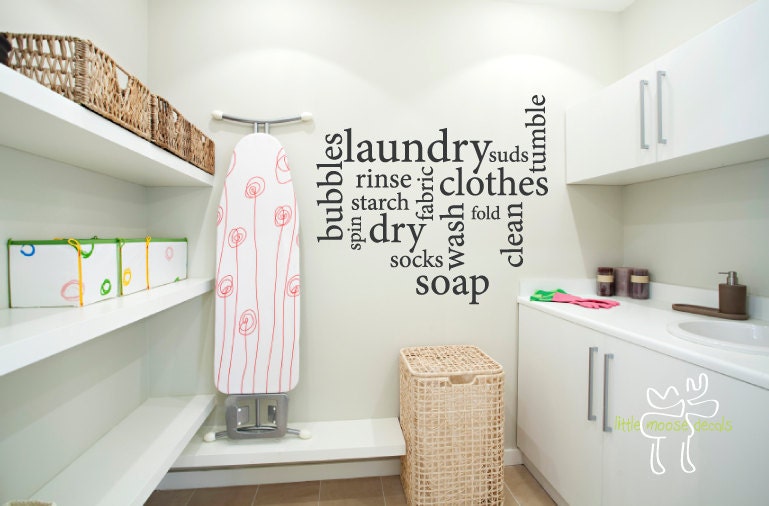 7) Industrial look
8) Bringing the Outdoors In
I'm liking this  over-sized sink here to soak clothes or bathe the dog!!
9) Texture-ize  with Beadboard/ Wood/Stone /Brick
10) Sheer Genius
–forgo the laundry room all together and add that space into your new awesome &  grandiose closet!!
Go ahead and take a rest on you chaise lounge that you can now fit in your huge closet from all that space your saved.. Oh and don't bother rummaging through drawers cause you got class cabinets (kinda like window shopping) soo maybe a little over the top but would I go there…… um YES PLEASE, if I no budget =)
So, what's your favorite?!?! Clearly # 10 isn't happening (any time soon anyways.. a girl can dream right?!? =) I would love you thoughts and suggestions on what you have done!!
Have a wonderful weekend
K.B